Research Article
Open Access
Mixed-Signal Architectures for High-Efficiency and Low-Distortion Digital Audio Processing and Power Amplification
EURASIP Journal on Embedded Systems
2009
2010:394070
Received: 9 June 2009
Accepted: 4 August 2009
Published: 8 November 2009
Abstract
The paper addresses the algorithmic and architectural design of digital input power audio amplifiers. A modelling platform, based on a meet-in-the-middle approach between top-down and bottom-up design strategies, allows a fast but still accurate exploration of the mixed-signal design space. Different amplifier architectures are configured and compared to find optimal trade-offs among different cost-functions: low distortion, high efficiency, low circuit complexity and low sensitivity to parameter changes. A novel amplifier architecture is derived; its prototype implements digital processing IP macrocells (oversampler, interpolating filter, PWM cross-point deriver, noise shaper, multilevel PWM modulator, dead time compensator) on a single low-complexity FPGA while off-chip components are used only for the power output stage (LC filter and power MOS bridge); no heatsink is required. The resulting digital input amplifier features a power efficiency higher than 90% and a total harmonic distortion down to 0.13% at power levels of tens of Watts. Discussions towards the full-silicon integration of the mixed-signal amplifier in embedded devices, using BCD technology and targeting power levels of few Watts, are also reported.
Keywords
Power EfficiencyTotal Harmonic DistortionDesign Space ExplorationNoise ShapingPower Stage
1. Introduction
Small size, low-cost and high-efficiency audio amplifiers, integrated as much as possible with digital audio signal processing tasks in the same embedded device, are required in several consumer applications: home and car entertainment, computer/portable multimedia players and, for low power levels, hearing aids devices. Conventional linear amplifiers feature low-distortion performance but have several disadvantages versus market needs [1, 2]: they are too heavy and energy inefficient and the achievable power density is limited by the physical size and cost of cooling hardware and power devices. An extra Digital-to-Analog Converter (DAC) is needed, before the analog amplifier, for digital sources: CD, Super Audio CD and DVD supports, MP3 files, and Digital Audio Broadcasting.
To achieve similar low-distortion performance of linear amplifiers but with a higher power efficiency, and hence smaller size and cost, the recent research has been focused on switching amplifiers. Several class D PWM (Pulse Width Modulation) topologies or hybrid class A–D or B–D ones have been proposed in literature [
3
–
6
]. However such topologies are still analog input amplifiers. An alternative solution is the direct amplification of the digital source based on the switching architecture at the bottom of Figure
1
: in the digital domain the input PCM (Pulse Code Modulation) signal is directly converted in a PWM one; the latter is amplified by an inverter power bridge, switching at hundreds of kHz, and provided to the speaker after lowpass LC filtering.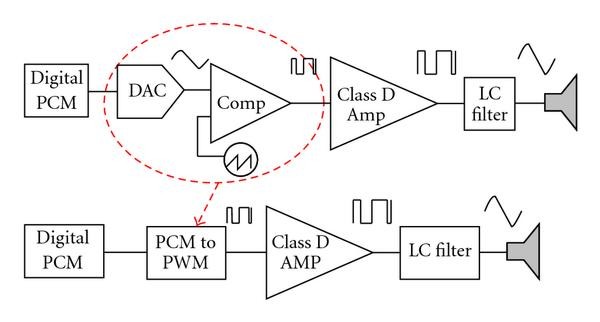 1.1. The State of the Art of Digital Power Audio Amplifiers
A direct conversion of the input PCM stream to PWM is not useful: PWM is a nonlinear technique and the intermodulation between the PWM carrier frequency and the baseband audio signal leads to poor-quality amplifiers [7]. To this aim, in academia and industry [8–24], several techniques have been proposed to improve the basic scheme in Figure 1: new digital audio processing algorithms [12–15, 17–20, 22–24] or novel feedback schemes [9–11, 21] or multilevel PWM power bridges [16] have been published to correct the distortions introduced by the PWM modulation or by the nonideal behaviour of the power stage. However the new proposed techniques require extra hardware resources; the performance gain is paid in terms of increased circuital complexity and cost. The overall amplifier often requires multiple chips for the digital part (including digital signal processor and/or ASIC and/or FPGA), plus ADC and high-order analog filters for the feedback plus multiple power transistors and gate drivers for multi level PWM. As a result high-performance systems require high circuit complexity, implemented using multiple chips and often multiple-boards, and are not suitable for consumer applications or embedded devices. Solutions with lower complexity are usually obtained at the expense of audio quality reduction.
1.2. Aim and Outline of This Work
This work explores the design space of digital audio amplifiers to find an optimal mixing of different analog and digital techniques. The resulting architecture aims at achieving optimal performance in terms of low-distortion and high power efficiency while still allowing a low-cost implementation: all the digital processing part integrated in a single device, for example, a low-complexity FPGA, plus off-chip components only for the power stage, made up of a MOS H-bridge and an LC filter but without any heat sink.
Most state-of-the-art techniques propose specific optimizations for just a part of the scheme in Figure 1; when integrating together different known techniques the relevant hardware overheads add up while the extra gain in performance can be negligible. However, the exhaustive design space exploration of digital power audio amplifiers is not straightforward since it needs fast but still accurate models involving the codesign of heterogeneous components: computation intensive processing algorithms at functional level with hardware components at physical level; low power digital and mixed-signal circuits with analog power devices; silicon integrated circuits with discrete devices. Hereafter Section 2 presents a platform-based modelling flow and the cost metrics used to drive the design space analysis. The models used to find optimal trade-offs between complexity, power efficiency, distortion and sensitivity are presented in Section 3 together with architectural comparison results. Section 4 shows the prototyping of the selected architecture targeting power levels of tens of Watts. Section 5 compares the obtained results versus the state of the art and discusses the extension of the work to fully integrated amplifiers for power levels of few Watts. Conclusions are drawn in Section 6.
2. Platform-Based Design Flow and Metrics
2.1. Design Metrics Definition
The definition of the multiple cost metrics to be optimized is essential to drive the design space exploration and the correct comparison of different architectures. The design metrics are the audio signal distortion, the power efficiency, the circuit complexity and the architecture sensitivity to parameter changes. The input signals are PCM samples with a bit size n from 16 to 24 and a sample frequency

between 44 kS/s and 96 kS/s (the lower values for frequency and bit-size are typical of audio CD while the higher values are used in audio DVD). The target output power, Pout, amounts to tens of Watts with power efficiency levels up to 90%. Reported data in this paper refer to the example case of max Pout of 70 Wrms (or 35 Wrms) delivered to a 4 

(or 8 

) speaker. The total harmonic distortion (THD) considered for High-Fidelity (Hi-Fi) is a level lower than 0.2%, the optimal target is 0.1%. As discussed in [1] there are high-end products for professional applications, using linear amplifiers, with THD figures below 0.001%; however the subjective sensitivity of the hearing human system to THD levels below 0.3% is often negligible. Most Hi-Fi amplifiers, for example, Sony STR-DE445 [13], for consumer home or car markets have a THD of 0.2%. The considered frequency response in this paper is 20 Hz–20 kHz, although THD optimizations focus on the range 500 Hz to 2 kHz where the hearing human system is mainly sensible and very often music signals are below 16-17 kHz [1]. The target circuit complexity for the digital processing circuitry amounts to tens of equivalent ASIC gates, a value that can be fitted in a single low-cost FPGA leaving space to integrate other audio processing tasks thus realizing a complete audio acquisition/playing system in a single embedded device.
2.2. Platform-Based Design Flow
To allow a fast but still accurate design space exploration we followed a meet-in-the-middle approach between bottom-up and top-down strategies [25]. A configurable modelling platform has been built starting from libraries of analog and digital building block components. A library of accurate spice models has been derived bottom-up for the hardware components whose nonideal characteristics and nonlinearity affect the behaviour of the power audio amplifier: power MOS, power supply, analog filters, OpAmp and comparators optionally used in the feedback loop. As example, we have created Spice models for the power MOS in [26], used also in the prototyping phase; such models consider all key electrical parameters [27] and their dependence on input driving signal (

) and output delivered power: MOS transfer curves, drain source breakdown voltage

,

on resistance, gate charge

, body diode reverse recovery charge

, internal gate resistance

, MOS rise and fall times

and

and switching frequency

, transistor packaging and thermal characteristics. The Spice models have been integrated with parametric and fixed-point Simulink models for the signal processing algorithms proposed to enhance the basic scheme in Figure 1, see details in Section 3. The resulting Spice/Simulink environment is then used top-down to build multiple architectures (proper configuring and combining the building block models) and to allow their fast but still accurate comparison. The considered design metrics are those in Section 2.1. This analysis allows a first selection of the most promising architectures; for them the comparison is further refined in a second step using HDL models for the digital audio algorithms.
Synthesized on different technologies (standard-cells CMOS libraries or SRAM-based FPGAs) the HDL models permit the evaluation of the gate complexity and power consumption of the digital circuitry. The selected architectures are finally prototyped, and the real performances measured, using FPGA technology plus a discrete power output stage.
3. Mixed-Signal Architectural Exploration
This section presents the modelling platform which includes the following building blocks, see Figure
2
: an over sampler, a cross point estimator for natural PWM, a sigma-delta noise shaper, a multilevel PWM generator, a dead time insertion unit, a power bridge, an LC filtering stage, a feedback loop with PWM signal compensation. To each building block parametric functional and cost models have been associated. For some blocks multiple algorithms are implemented. By combining the different building blocks and configuring their parameters, different possible architectures have been obtained, simulated and compared. The following subsections detail the architectures and functionalities implemented in each block of Figure
2
, the relevant parameters, and the results obtained from the comparison of different configurations. The most suited choices for block combination and parameter configuration are also highlighted.

4. Prototyped Digital Audio Amplifier
From the design space exploration carried out in Section 3 the amplifier architecture, summarized hereafter, resulted as an optimal trade-off between circuit complexity, power efficiency, output distortion and low sensitivity to parameter changes. The digital part includes: an oversampler by a factor

using an Equiripple 4-stage polyphase FIR interpolating filter, a cross point estimator based on

C technique realizing a NPWM scheme, a noise shaper with

output bits and a 5th-order noise shaping filter, 3-level PWM generation, correction of PWM words through the insertion of time guard intervals also as a function of a 1-bit signal feedback.
The digital processing part, implemented in HDL, has been synthesized in different CMOS standard-cells technologies (90 nm 1 V supply voltage and 180 nm 1.8 V supply voltage) resulting in a digital complexity of 15.2 Kgates, mainly due to the noise shaping and interpolating filters. The low circuit complexity allows the fitting of the digital circuitry on several low-cost SRAM-based FPGA devices. As example the processing part of the amplifier occupies 90% of a Xilinx Virtex XCV100 or 58% of a Xilinx Spartan3 200. Such devices are available for large volume production at a cost of few dollars. Hence the low circuit complexity of the proposed architecture allows for a low-cost implementation. The power consumption for the above cited implementations is in the order of few hundreds of mW, as example 100 mW when integrating the amplifier in the XCV100 and playing 44.1 kS/s CD-quality audio signals.
The output stage is a full bridge made up of N-/P- MOS devices from [
26
] plus a differential 4th-order LC Butterworth filter. Table
5
summarizes the measured results on the amplifier prototype. The THD value at 1 kHz refers to a 16-bit 44.1 kS/s CD-quality input signal and is evaluated using an Audio Precision test setup. The high power efficiency achieved permits an output power up to 70 Wrms without using extra cooling hardware. The results in Table
5
(Pmax of 70 Wrms, THD of 0.13% and efficiency of 94% at 45 Wrms) confirm the performance estimation made by simulations during the design phase in Sections 2 and 3, particularly in Figures
9
and
10
(Pmax of 70 Wrms, THD below 2% and efficiency up to 95% in the range 40–50 Wrms).
The prototype allowed us also to assess the performance improvement of the 1-bit compensating loop scheme. The sensitivity of the amplifier to parameter changes is an important feature against temperature variations, devices tolerances, power supply ripple. As example, Figure
11
shows how the THD degrades when the system configuration is optimised for 4 

speaker and then the load is changed with an 8 

speaker. Both the cases with 1-bit feedback scheme (
1b feedback
) and without (
open loop
) are considered. From Figure
11
it is worth noting how the THD performance degradation due to parameter change is lower in the amplifier with feedback.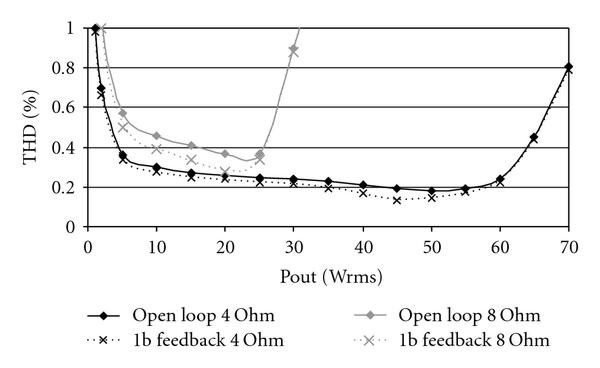 5. Comparison to the State of the Art and Future Work
5.1. Comparison to the State of the Art
When compared to the state of the art of digital input power amplifiers our prototype stands for its low-complexity, while keeping high power efficiency and low THD levels. The distortion levels, THD below 0.2% at 1 kHz in the power range 35–60 Wrms with a minimum of 0.13% at 45 Wrms (see A3 in Figure 10), are suitable for audio Hi-Fi applications. Other works in literature achieve lower THD values, as example in [13] the THD is 0.02% for similar power levels of 50 W, but at the expense of a lower efficiency and an increased complexity. The power efficiency is 80% in [13] while in our work is higher than 90%. The digital processing tasks in [13] require the use of multiple boards (1 DSP board for the digital audio processing plus 1 FPGA board for PWM processing) while our architecture just requires 1 low-cost FPGA having a bounded circuit complexity of 15 Kgates. The multiple boards digital amplifier in [13] features also a configuration with 90% power efficiency but with a THD of 0.2%. In [16] with a 9 level PWM inverter the achieved performances of 0.25% THD and 80% efficiency are worse than our results. This confirms our analysis in Section 3.4 that 3-level PWM is the optimal choice for the output stage. Compact solutions using a single chip for the digital part, as in our work, and without heatsink have been proposed in [9, 19, 23, 31, 32]. However [19] is missing the feedback scheme needed, as proved in Section 4, against parameter changes; in [9] the efficiency levels are lower than those achieved by our scheme. The FPGA-based audio amplifier in [23] is missing feedback and NPWM techniques; it has a power efficiency of 80% and a THD of 1% both worse than our achieved results. In [31, 32] only the interpolation filter is implemented occupying a whole Spartan FPGA. With respect to our previous conference paper [20], where only UPWM is implemented and a lower oversampling factor and a less-performance FIR interpolating filter are used, the audio processing system in this work has been improved including the digital techniques for NPWM, more accurate models for all the analog components, a more performing interpolating filter. The prototyped architecture in this work versus [20] achieves a much better THD value, predicted by the simulations and confirmed by measures on the prototype. Finally in some works [10, 17, 24], the shown results refer to simulations or prototypes only of the low-power PWM generator without including a real prototyped power stage. As discussed in this work, and widely proved in literature, the nonideal behaviour of the power stage is a key issue in power audio amplifiers.
5.2. Future Work
The proposed platform-based approach has been used also to define the optimal architecture of digital power audio amplifiers using other complementary power MOS devices, such as the IR530 and IR9530. The achieved results with these MOS devices prove that, targeting a power level of 45 Wrms on an 8 

load, optimal distortion performances below 0.2% can be reached in the range 17–35 Wrms with a power efficiency higher than 90%. The resulting architecture is similar to that discussed in Section 4 with the exception of the tuning of some parameters specifically optimized for the characteristics of the new power devices.
As work extension we are applying the same methodology to the design of a fully integrated digital input audio amplifier targeting maximum power levels of 1-2 W. Such amplifiers of few Watts are needed for battery-power terminals with audio playing capability [33, 34]. The design of the amplifier is carried out using an architecture similar to that in Section 4 fitted on a BCD 0.35 

m technology providing CMOS transistors for the digital part and DMOS transistors for the analog power part. The only off-chip circuit is the LC lowpass filter. Postlayout characterization proves that the digital amplifier can be integrated in less than 2 mm2. The integrated power stage is an inverter with NDMOS sized with

mm and

m supporting, with low

on of few m

, output currents of 0.14 A on output load of 100 

.
6. Conclusions
The design of digital audio power amplifiers is presented in the paper. A modelling platform has been built to allow a fast but still accurate exploration of the mixed-signal design space which involves the codesign of (i) audio processing algorithms with physical characteristics of hardware components and of (ii) low-power integrated digital circuits with analog power devices. Different amplifier architectures have been modelled, simulated and compared to find optimal trade-offs among different cost-functions: low-distortion, high power efficiency, low circuit complexity and low sensitivity to parameter changes. The selected amplifier architecture has been prototyped, for power levels of tens of Watts, implementing the digital processing part on a single low-complexity FPGA while off-chip components are used for the power output stage, no heatsink is required. The resulting digital amplifier, compared with the state of the art, features a low circuit complexity while keeping good power efficiency, higher than 90%, and low-distortion levels, down to 0.13%. As future extension the realization of a fully integrated digital amplifier in BCD technology is presented for power levels of few Watts.
Declarations
Acknowledgment
The work has been partially supported by the SHAPES FP6 EU project.
Authors' Affiliations
(1)
Department of Information Engineering, University of Pisa, Pisa, Italy
Copyright
© S. Saponara and P. Terreni. 2010
This article is published under license to BioMed Central Ltd. This is an open access article distributed under the Creative Commons Attribution License, which permits unrestricted use, distribution, and reproduction in any medium, provided the original work is properly cited.